Caution: Fresh Paint! Why We're Reimagining Our Customer Console
Things looking and feeling different—and loading faster!—is a step towards unlocking our platform's capabilities.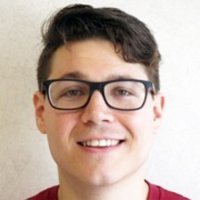 Miles Thomas
Product Manager - Cloud (Business)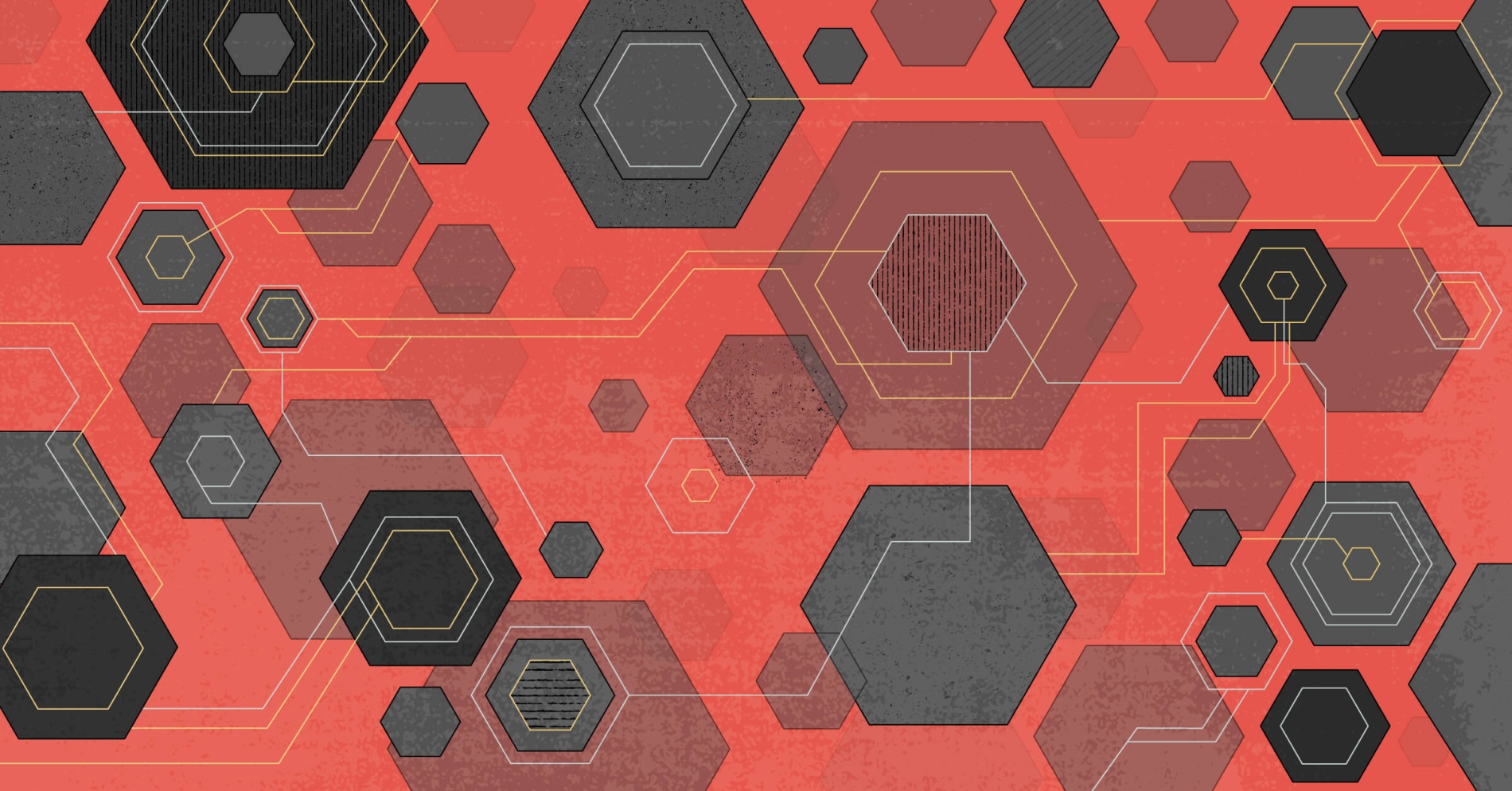 Listening to both internal and external users is a critical way to learn which areas of our product need improvement. Something we've heard consistently over the last year is that we needed to make the experience of using Equinix Metal faster, and that we would benefit if interacting across various Equinix products was easier and more consistent.
This feedback pushed us to prioritize performance work on our API monolith, and more recently to reimagine our customer portal. If you're a regular Equinix Metal user, you've likely already felt the benefits of our API performance work (don't worry, there is more on the way!) and over the coming months you'll see a new Metal Console rollout.
As you might expect from a fresh coat of paint, things will look and feel a bit different—in a good way, we believe—but you'll also notice faster load times. Building upon our API and other backend work, we've done a complete overhaul "under the hood." (Look for a detailed post on how we made things fly in the near future.)
The first things you'll notice once we make the switch is how things are organized on the main "get stuff done" pages, like deploying a server or configuring VLANs. Based on user feedback and Material Design principles, the new UI is more intuitive.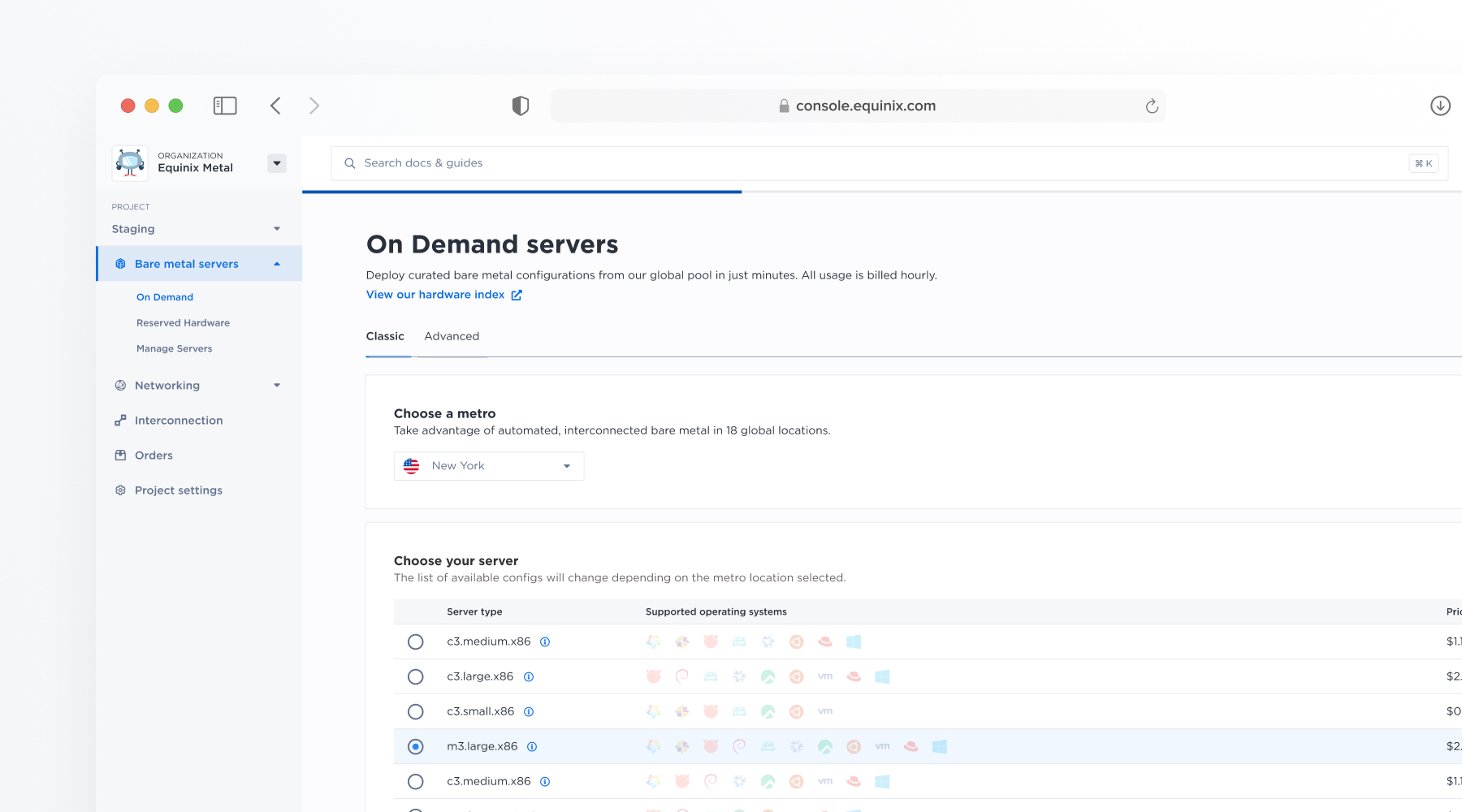 Addressing some common feedback, we'll be swapping out our current horizontal navigation for a vertical approach that gets out of the way when you don't need it; you'll search for things using the new search bar at the top of the page (where you normally look for one); if you're using many projects across multiple organizations, the new left-side browsing menu will make it easier to navigate between them.
An updated UI and better performance are the first part of the story. Another is the alignment we've done with other Equinix portals, leveraging a company-wide design system that we call Quix. This not only helps encourage consistency, but also allows us to embrace higher standards around accessibility and responsive mobile viewing.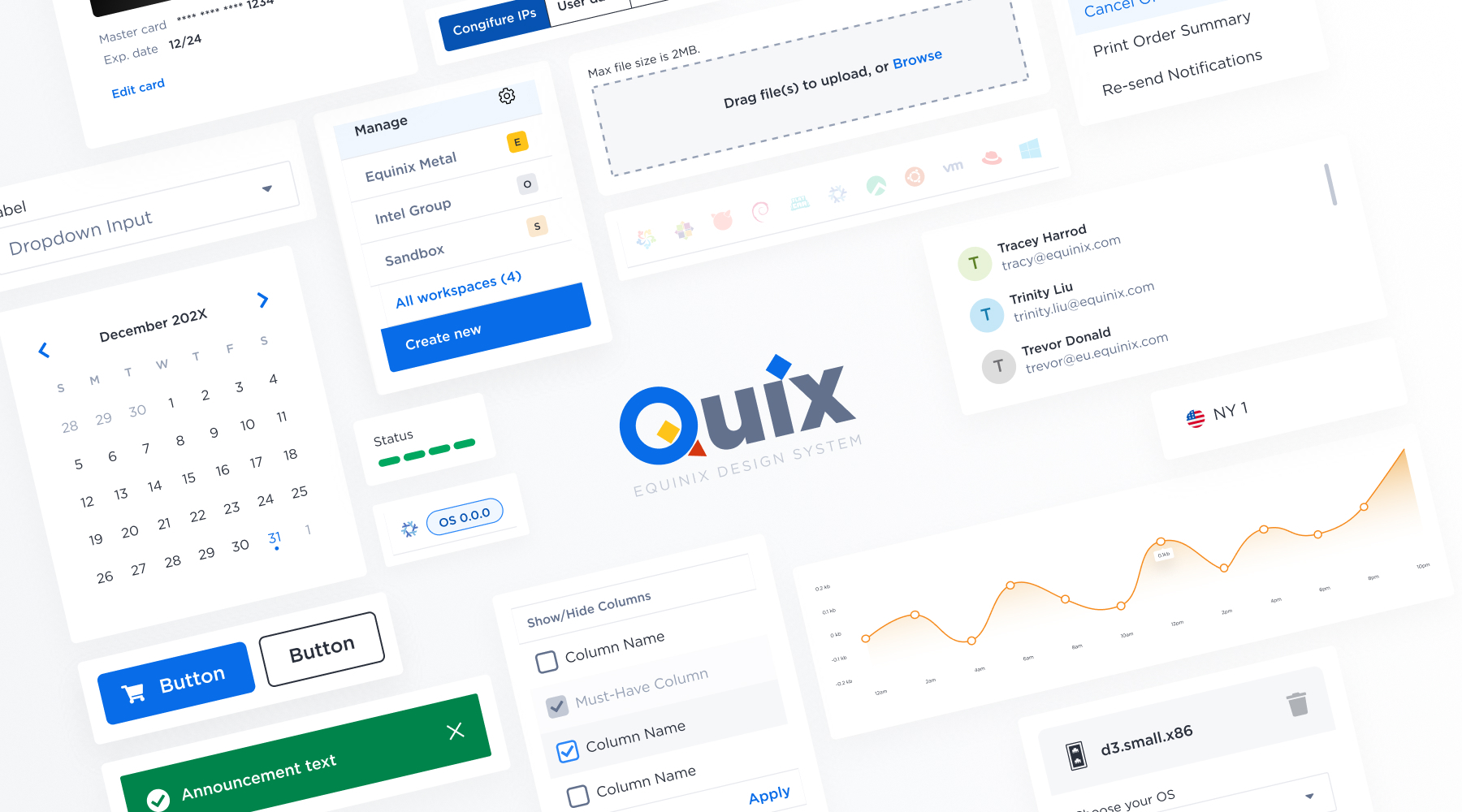 Finally, a more modern and flexible codebase enables us to introduce new features more quickly and confidently, putting more of what Equinix has to offer within reach of Metal Console users. We're excited that our teams will be able to take advantage of a low-friction release cadence. Who knows, they might even ship more on Fridays! ;)
This is all part of the process of scaling our product and preparing for the growth ahead. Once the new portal hits your computer screen, we'd love your feedback.
You can find more details about the upcoming Equinix Metal changes in this FAQ:
What is changing (and when) with the Equinix Metal customer console?
In order to make our product better, faster, and easier to use, we're giving our customer portal (we call it the Metal Console) a visual and technical refresh. Changes will roll out to customers starting in August, 2022.
Visual improvements include the relocation of the top-level menu to a left-hand navigation and the adoption of an Equinix-wide design system for a more cohesive experience across products and improved accessibility. Under the hood, we've modernized our codebase with a focus on faster load times, better stability, and quicker iteration in response to customer feedback.
Will I be able to do everything in the new console that I can in the current version?
Yes! The new Metal Console will be functionally the same as the current portal. This release is focused on visual and performance improvements.
Where can I go if I have questions or feedback about the new Metal Console, or ideas for improvements and additional features I'd like to see considered?
For any troubleshooting issues, please check out the redesigned support center in the new Metal Console, use the live chat bubble wherever you see it, or drop an email to support@equinixmetal.com.
For more real-time feedback, join our Community Slack where you can reach a member of our Product or DevRel teams for discussion.
Have more ideas? Add your voice to our feedback / roadmap site for others who may have the same ideas as you that you can upvote, or to submit your idea for future consideration.
Published on
07 July 2022
Category
Tags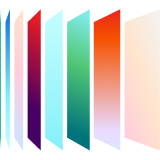 Ready to kick the tires?
Sign up and get going today, or request a demo to get a tour from an expert.
Get started