Putting Equinix Metal to the Test (Part 1)
How to create an Arista Leaf/ Spine Cloud On-Ramp at Equinix–without ever deploying hardware.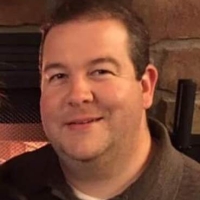 Bill Blake
Global Solutions Architect, Equinix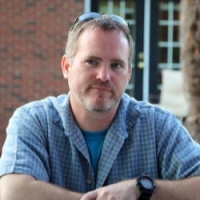 Chris Kane
Systems Engineering Manager, Arista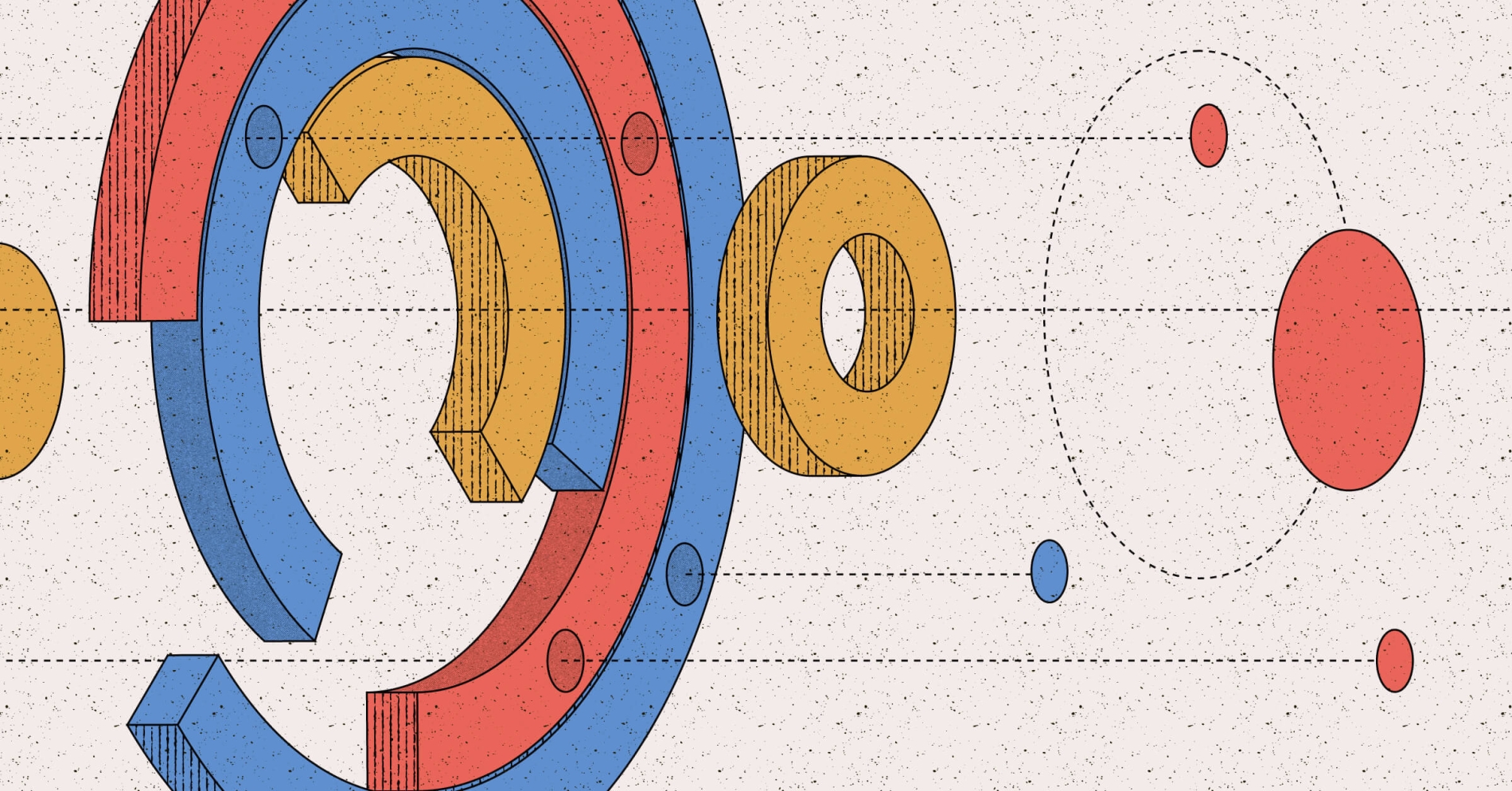 Today, networking nerds need to solve the latest challenges of Cloud computing: How do I extend my On-Prem network into the Cloud?
For quite some time, we've known that by utilizing Equinix Fabric you can physically build out the most optimal Cloud On-Ramps in the regions that matter most to your business at Equinix. Equinix and Arista have taken that concept a step further by enabling the possibility of a virtualized Arista Leaf/Spine architecture that takes your traffic from On-Prem to the public Cloud On-Ramps without ever stepping foot inside an Equinix data center.
As easy as 1, 2, 3.
This innovative approach has been enabled by the introduction of three key technologies: Equinix Metal, Arista Cloud EOS, and Equinix Fabric.
Equinix Metal allows customers to dynamically deploy single-tenant compute resources in key metros around the world in a matter of minutes (yes, really). By leveraging their bare metal compute service, customers can deploy virtualization technologies such as VMware ESXi. This gives customers the flexibility to run any type of workload they want on their own dedicated server hardware, built to spec in just seconds.
The next piece of the puzzle is Cloud connectivity. Meet Equinix Fabric, the virtual fabric of the Cloud world. Equinix Fabric enables customers to seamlessly connect to any cloud, partner, or even your own infrastructure in seconds. By linking Equinix's worldwide data center footprint, customers can build their own backbone, Cloud On-Ramp, or business partner interconnection hubs on the fly. Combined with the power of Equinix Metal, customers now gain the ability to create a totally virtual presence in any metro around the world in minutes.
Ready, set, deploy
With the right building blocks in place, the next step is to deploy your Arista Cloud EOS networking images onto VMWare. This will allow you to deploy Arista CloudEOS inside of Equinix Metal. In this example topology, we are deploying Leaf nodes in the Leaf/Spine architecture. The Leaf switches can now handle the traffic from a customer's On-prem data center and attach to the Equinix Fabric to facilitate external connectivity to SaaS providers, Clouds, partners, and network carriers. The Equinix Fabric is providing the L2 connectivity with the Arista Cloud EOS providing Layer 3 functions using protocols such as BGP and VXLAN. Arista CloudVision orchestration gives a single pane of glass view of the entire network stack, including any Cloud EOS-based devices inside of your AWS, GCP, and Azure deployments.
With the full architecture taking shape, we can see that by combining the best-of-breed approach for Cloud On-Ramp, networking, and connectivity, customers can deploy a proven architecture in hours that previously may have taken months (if not years!) to construct.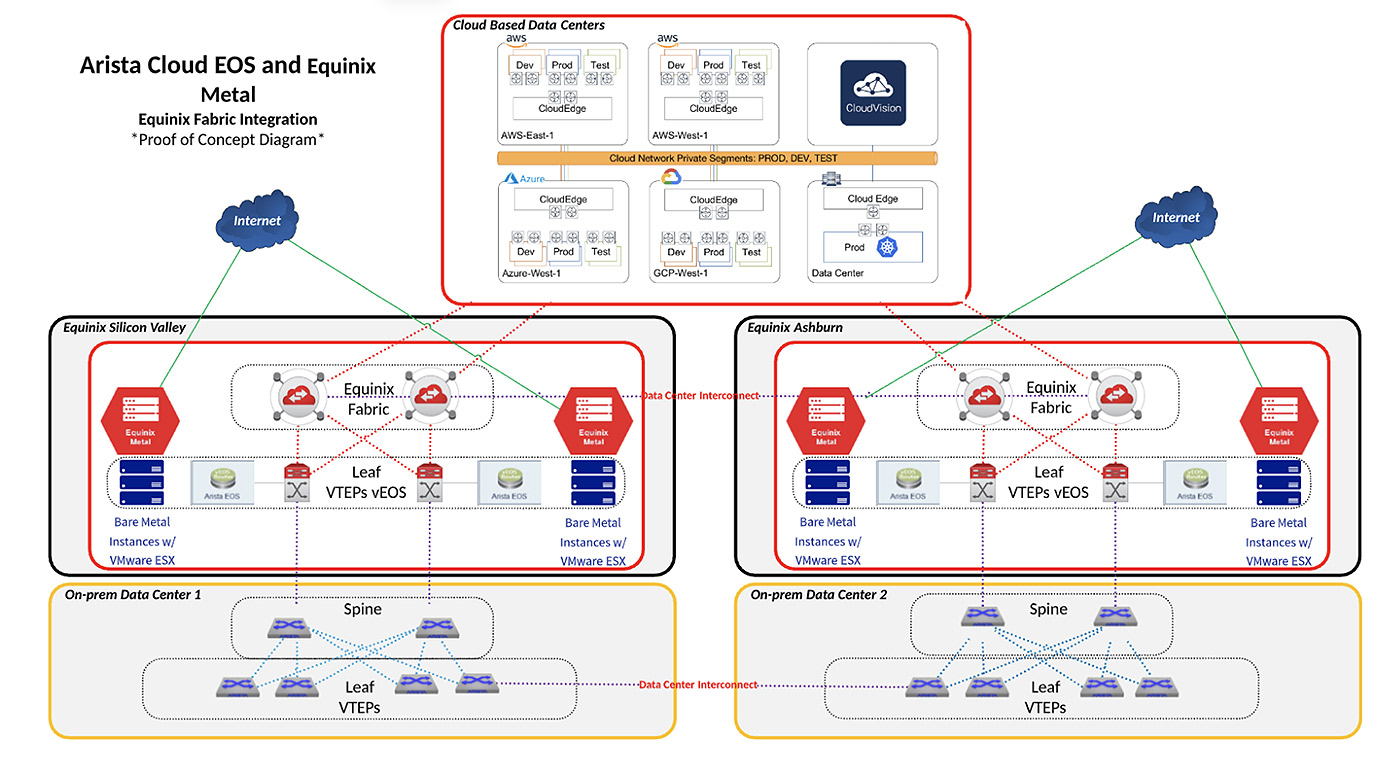 For our next blog, we will put this architecture to the test and build out a proof of concept deployment using the tools and resources mentioned above.
Stay tuned!
Looking for more? Listen in on Bill and Chris' latest Tech Talk: Put Equinix Metal to the Test: Create an Arista Cloud On-Ramp.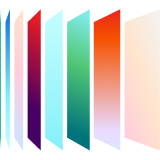 Ready to kick the tires?
Sign up and get going today, or request a demo to get a tour from an expert.
Get started