Developer Demos, All Day!
What we loved about our developer event and how to see all the demos if you missed it.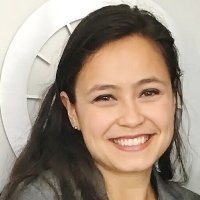 Amelia Chantarotwong
Senior Product Manager, Developer Relations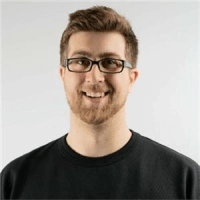 Steve Martinelli
Director, Developer Relations
June 21st was a special day for our Developer Relations team. We invited friends who use our platform for fun and for business to spend the day conducting demos in front of a livestream audience. Our theme was automation, showcasing anything developers could automate using readily available Equinix Labs creations and the underlying APIs of our Digital Services products.
But two things made Demo Day truly special:
It featured partners highlighting real, repeatable use cases for the platform.
It was presented by and for technical practitioners; the speakers were solutions architects, cloud engineers and startup founders.
Old Equinix friends and advocates, including David Flanagan (Rawkode), Daniel Finneran and Mark Coleman, participated in the presentations. Some of the most interesting talks focused on using Equinix for rapid and repeatable infrastructure build and destruction to gamify technical outreach.
Watch videos of the sessions and see the full list of speakers.
Equinix Demo Day was a chance for partners to showcase what their products can do on our bare metal platform in technical detail, explaining how they work. It showcased their value in a way that was relevant, speaking to our DevOps ecosystem of services.
There were 21 speakers total, including from Dagger, OpenFaaS & Actuated, Twilio, NetBox Labs, SUSE, Pulumi, Red Hat, Isovalent, Aarna, Golioth, Pure Storage, Direktiv and Fermyon. We only accepted the most interesting of session proposals, whether they were from startups or established companies.
It's always gratifying to see how other companies use our platform to build their products, trusting Equinix's rich feature set, stability, speed and reliability.
Learn what our more than 40 partners do.
By the Numbers
Here's a snapshot of Demo Day by the numbers:
21 speakers
14 companies
8+ hours of live streaming
6+ countries represented: UK, Scotland, India, Australia, Canada, US and Denmark (that's where Red Hat's Andrew Block happened to be at the time)
200+ messages in the chat
1,000+ views
20,000+ impressions on social and YouTube
4 very tired–but proud– hosts
But what was it really like? Here are a couple fan favorites.
The Highlight Reel
Here's just a small taste of some of Demo Day's most entertaining sessions:
Breaking Kubernetes for Laughter and Learning
Seeing the Talos team stumble while trying to fix Kubernetes clusters purposefully broken by the team from RedHat was a lot of fun! Who knew pitting groups against each other to fix a K8s bare metal environment would be so funny? It was hard not to laugh when David Flanagan tried to use chmod but it lacked the executable bit. As a bonus, we learned some useful tips and tricks along the way, like David's method for getting device data without using the Equinix Metal API!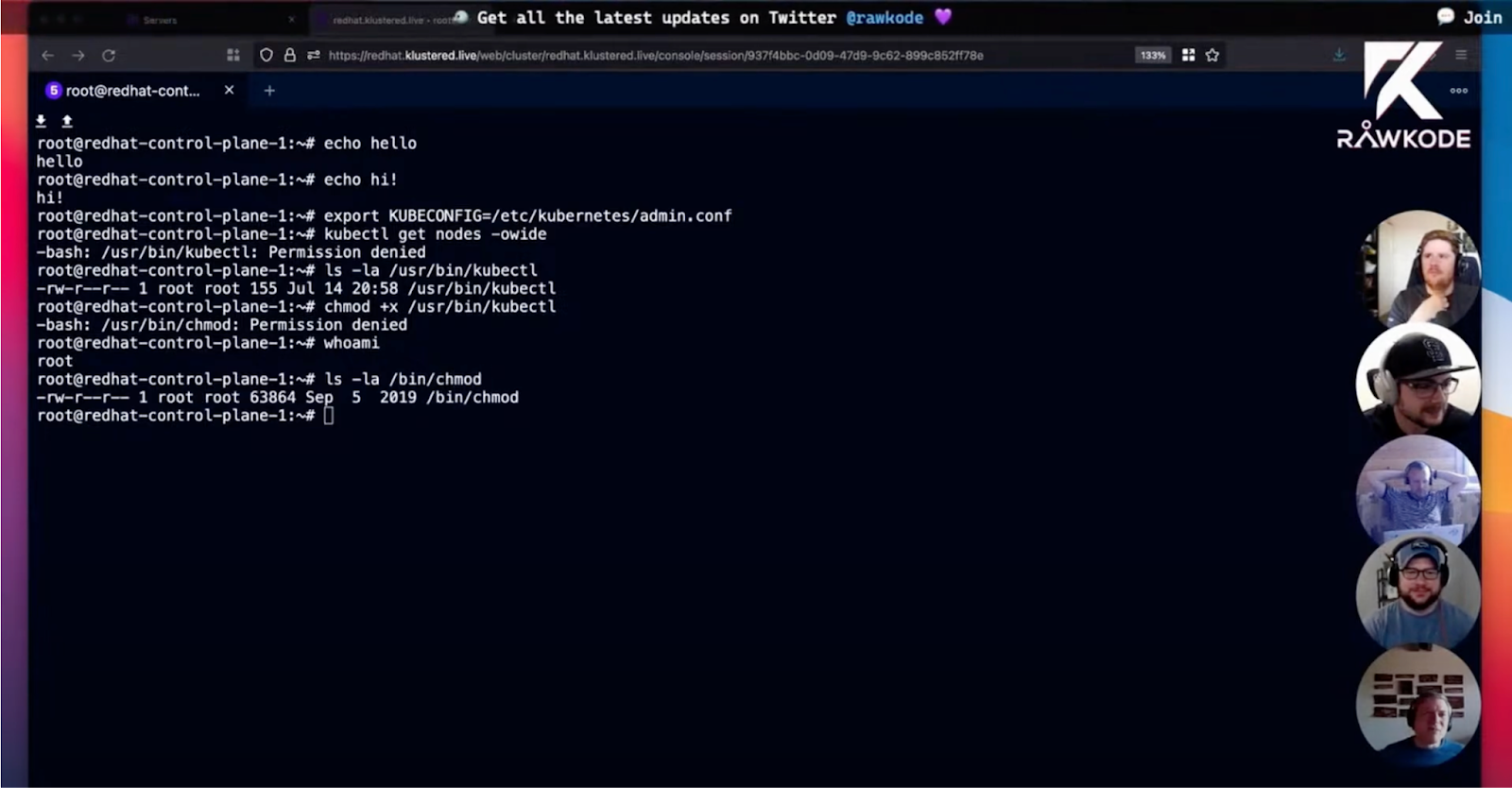 Capture the Flag
In his Capture the Flag talk, Dan Finneran showed how you can automatically spin up a ton of clusters quickly with the Cilium network and game configuration already applied! It was remarkable that a single c3.small could handle 750 kubernetes clusters. Dan chose to use Metal because it was fast, had low overhead (no virtualization required) and provided the most flexibility in the types of workloads you could run. (A separate shoutout to Dan for the Saw reference: "Would you like to play a game?")
Open Source in the Enterprise
This was an insightful session with folks who deal with open source software in different ways in their respective companies: product, engineering and legal. It was a candid discussion about the challenges of balancing business needs with the responsibilities and expectations of an open source community. We learned a lot from that conversation! Bonus quote: "You're not going to please everyone."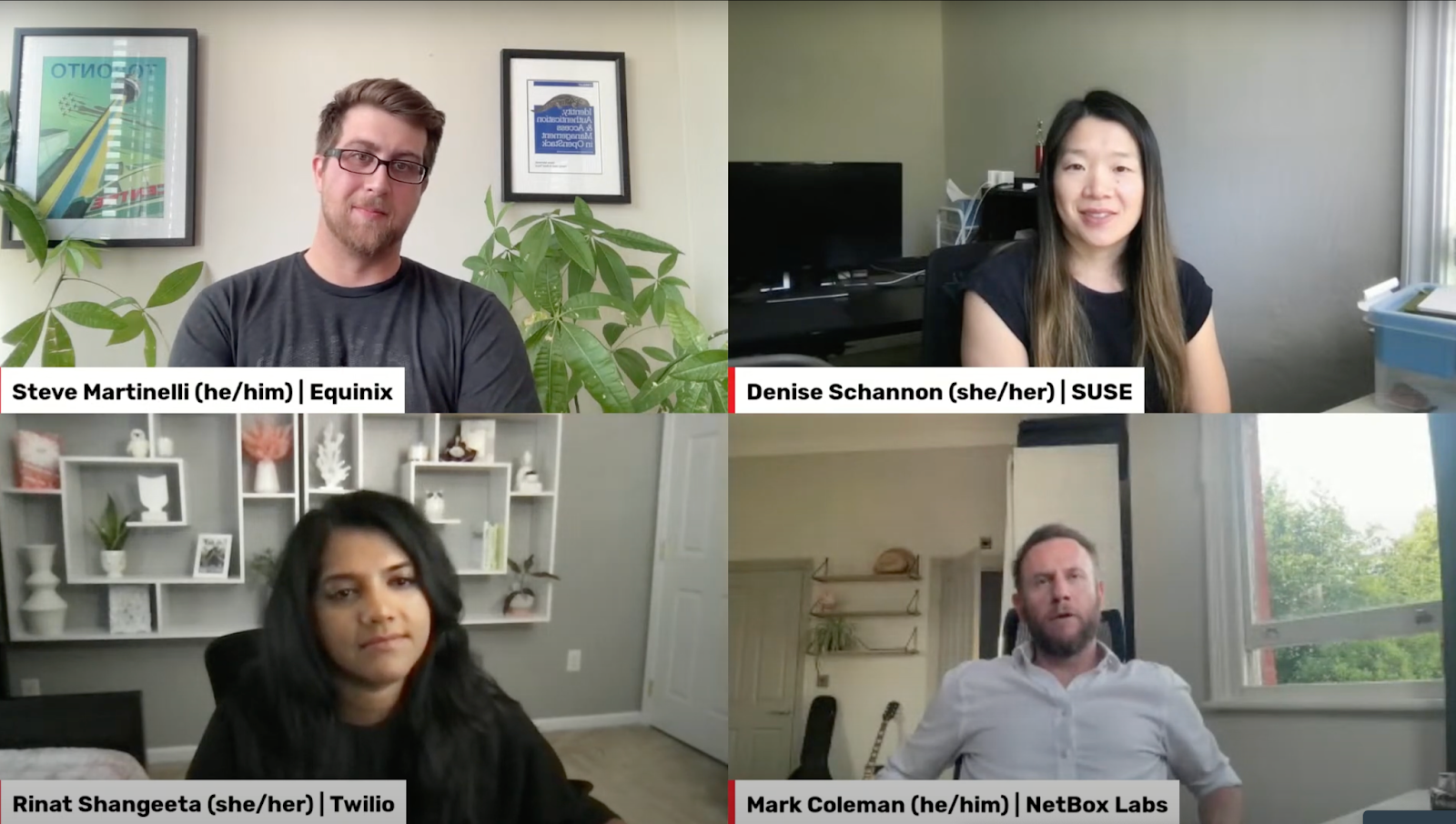 Dagger on Equinix Metal
Kyle Penfound from Dagger showed us the advantages of running CI on Metal over hosted, demonstrating a project where CI time was 2 minutes instead of 12! The experience of having a 100GB network all to himself blew Kyle's colleague Gerhard Lazu's mind. They discussed how powerful it was for users to be able to choose where to place their hosts to ensure consistent low latency and high throughput. They also appreciated how easy it was to get Talos OS on Equinix versus some of the other providers.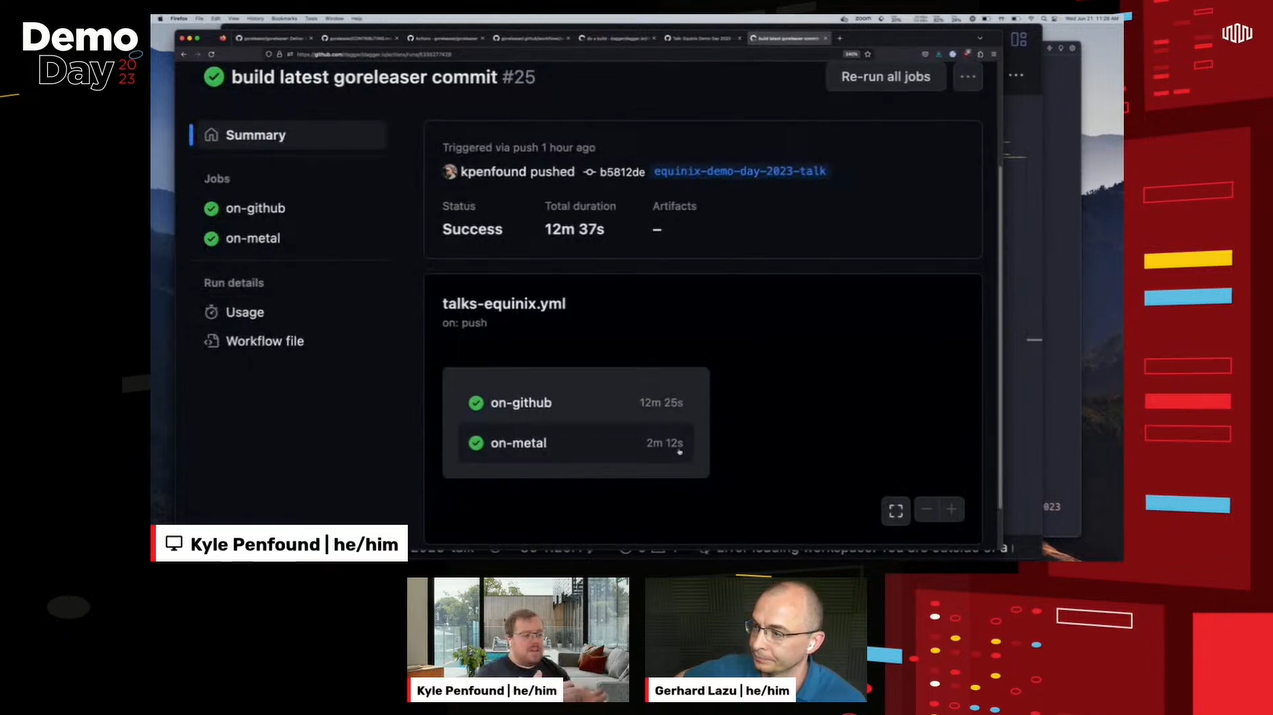 Arm on Metal
One of the things that stood out in the talk by engineer and entrepreneur Alex Ellis was the cost savings in multiple real-life use cases of folks using Arm servers on Metal. It was eye-opening! He brought three different examples of organizations saving around 6 hours when building and testing on Arm. That's super cost effective. It also helps with achieving sustainability goals many organizations today have.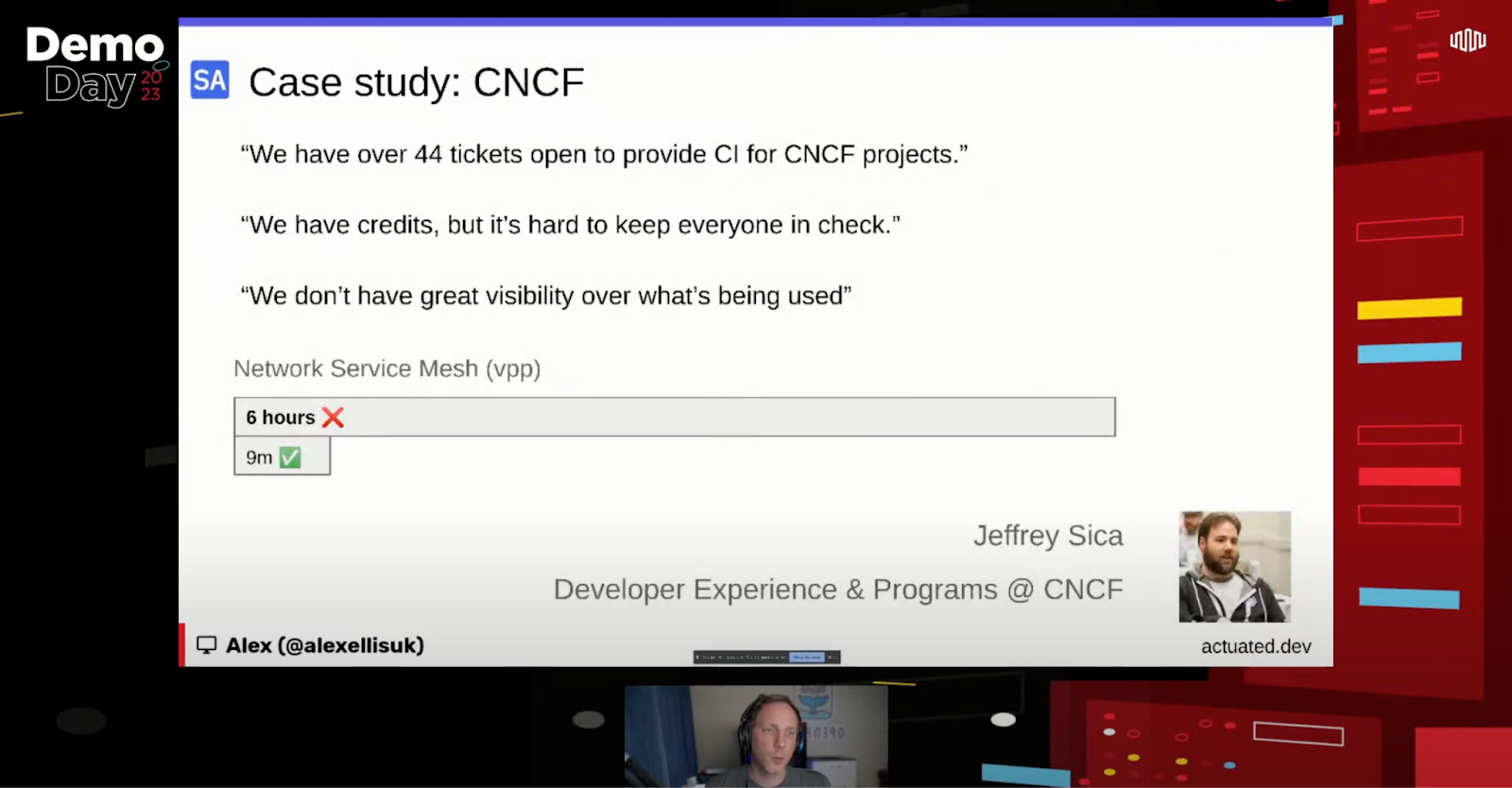 While we'd love to highlight all the talks, it's impossible to do them justice in these short summaries. It's really best to see for yourself! Check out the original Demo Day 2023 Livestream or jump to your favorite talks here.
If You Missed Out…
You may have a chance to see particular speakers back by popular demand in 2024, if not sooner. This is because multiple presenters praised the organization of the event and relayed they would be glad to participate in Demo Day again. Hopefully their enthusiasm brings you comfort that they will return!
Here's what three of them said:
"I wanted to call out the great support that was provided for this event. Really enjoyed it. Extremely seamless experience and really enjoyable. Love to participate again!" - Andrew Block, Red Hat
"...was fun and so well organized!!!" - Wilhelm Wonigkeit, Direktiv
"...Equinix. Y'all are first-class all the way! Everyone I've worked with has been responsive, knowledgeable, and just a pleasure to work with… 5 stars. Would Demo Day again" - Josh Kodroff, Pulumi
Encouraged, we are already starting to plan Demo Day 2024. Until then, enjoy the recordings from this year's event and don't forget to subscribe to our YouTube channel!
P.S. If you liked what you saw in the sessions and are ready to test drive our platform, check out the Equinix Labs repositories, read the basics on our site and learn how to get started.
Published on
20 July 2023
Category
Tags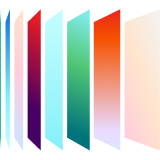 Ready to kick the tires?
Sign up and get going today, or request a demo to get a tour from an expert.
Get started