Metal Billed Fabric Virtual Connections¶
Metal Billed Fabric Virtual Connections allow you to make a Layer 2 virtual connection from Equinix Metal™ to other Cloud Service Providers (CSPs) on Fabric in the same metro, without the need for a Network Edge device. You will still need to have an account on the Equinix Fabric Portal in order to redeem the a-side service token, but you do not have to have an Equinix Fabric Billing account.
General Facts
Each Virtual Fabric Connection can be either a single port or a set of redundant ports. Redundant ports are recommended for some amount of high-availability. With a single port, there is no guaranteed uptime.
Each Virtual Fabric Port comes with a single Virtual Circuit for you to attach to a VLAN to. If you are using a redundant ports, each port will have a virtual circuit. In order to have high-availability, you will need inter-vlan routing or some other layer-3 application awareness.
Virtual Fabric Ports have a maximum bandwidth of 10 Gbps.
Virtual Fabric Ports support up to a 9000 byte maximum transmission unit (MTU) and jumbo Ethernet frames.
Origins and Destinations
| Origin | Destination | Supported |
| --- | --- | --- |
| Metal Billed Fabric VC | Any physical port on Fabric (not on a Service Profile) | Yes |
| Metal Billed Fabric VC | Any Layer 2 Service Profile on a physical Fabric port, generally a cloud service provider | Yes |
| Metal Billed Fabric VC | Virtual Device (Network Edge) or Service Profile on a Virtual Device | No |
| Metal Billed Fabric VC | Equinix Metal as the destination cloud service provider | No |
Bandwidth and Pricing¶
Metal Billed Fabric Virtual Connections usage charges are metered and billed by Equinix Metal, and will be included in your monthly invoices. All usage is hourly based, with a rate determined by the maximum speed you choose for the connection. Your options for maximum speed are:
50 Mbps
200 Mbps
500 Mbps
1 Gbps
2 Gbps
5 Gbps
10 Gbps
Note: you are choosing a maximum speed, because it's possible that the service provider you are connecting to has additional connection speed options. In the Fabric portal, you will be able to choose a speed up to the maximum speed you order through Equinix Metal.
Rates are published on the Fabric Pricing product page.
Requesting a Metal Billed Fabric Virtual Connection¶
Redeeming Your A-side Service Token¶
To redeem your token, login to the Equinix Fabric portal, and from the Connections drop-down menu, click Create a Connection.
In Fabric, select the destination of the connection, which is your other cloud service provider such as AWS or Azure. Equinix Metal as the destination is NOT supported.
Once you have selected your destination, use your service tokens to set Equinix Metal as the origin of the connection. The port information will be automatically populated once you enter the token. Depending on the redundancy options the cloud service provider offers, you may be able to redeem both tokens at once.
Otherwise you will have to repeat this process for each token.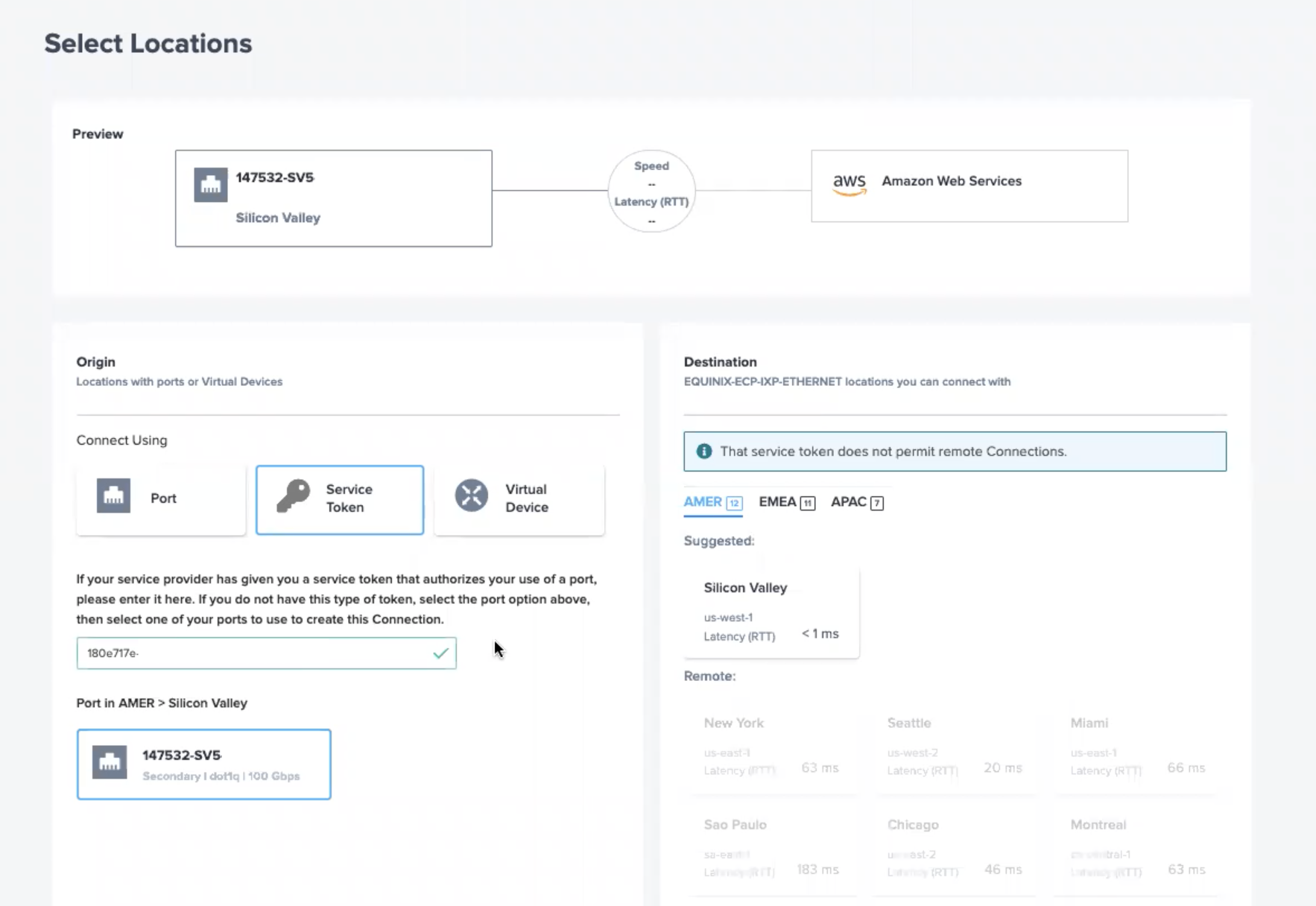 The destination options will be filtered to the metro that you requested on Equinix Metal. Select the on you want to connect to, and click Next.
Give the connection's virtual circuit a friendly name, and enter any information that is required by the service provider that you are connecting to, like your AWS Account ID. Set the speed of the connection, up to the limit that was set on Equinix Metal.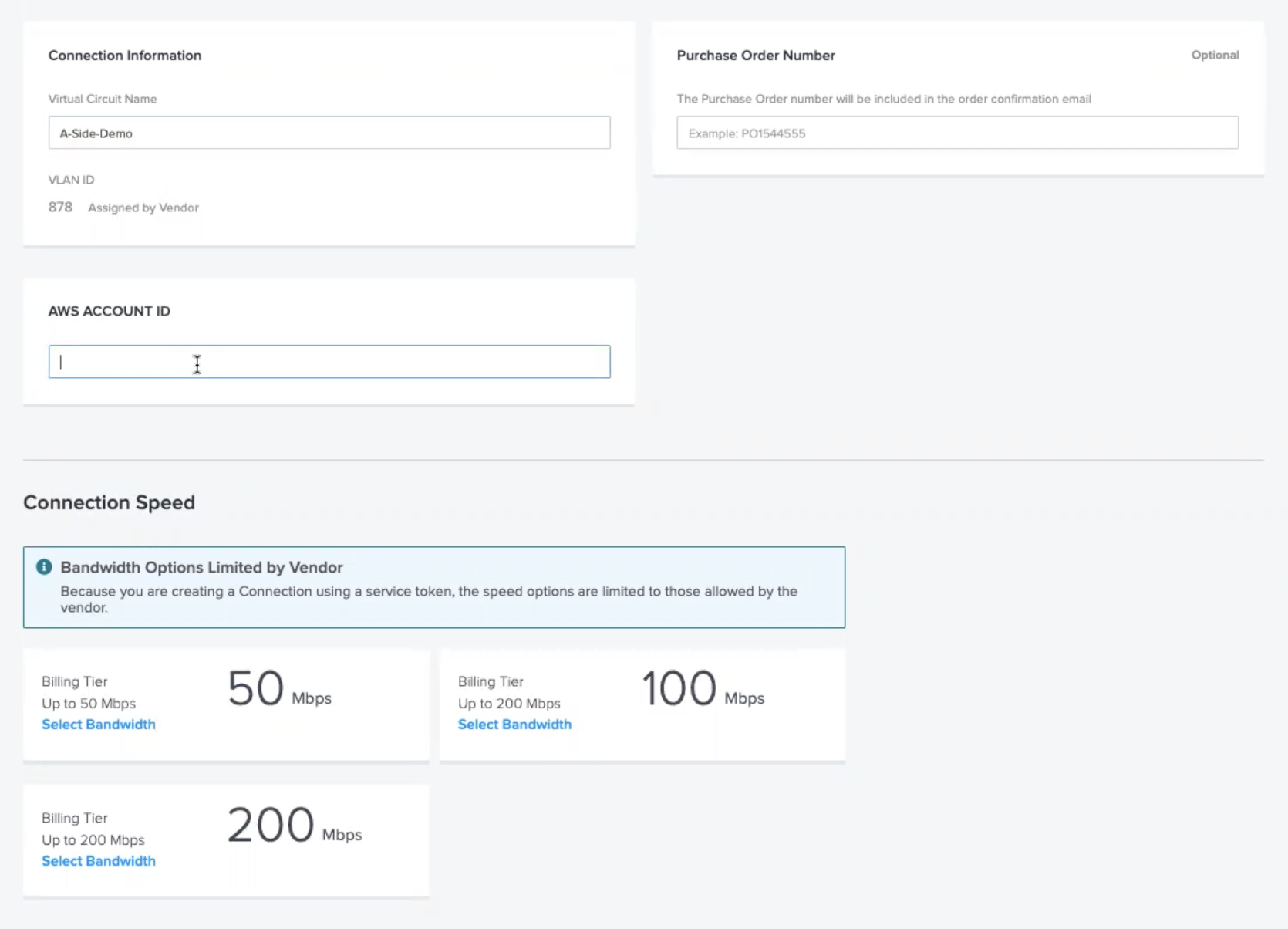 Click Next to review your choices, and when you are ready to place the order, click Submit Order.
Note: After submitting the order, you may also have to log into the account that you use to manage the service provider you are connecting to, in order to approve the connection from Equinix Metal and Fabric.
Redeeming your a-side service token and setting up your connection in Fabric starts a background job on Equinix Metal to complete the setup and activation. This usually takes less than 15 minutes.
If you received two tokens for a redundant connection, and you were not able to redeem both tokens when connecting to the CSP, be sure to repeat the process to redeem your second token.
If you need to retrieve the tokens, they are available in the Interconnection Request tab. Click Manage on the Interconnection that you want the tokens for.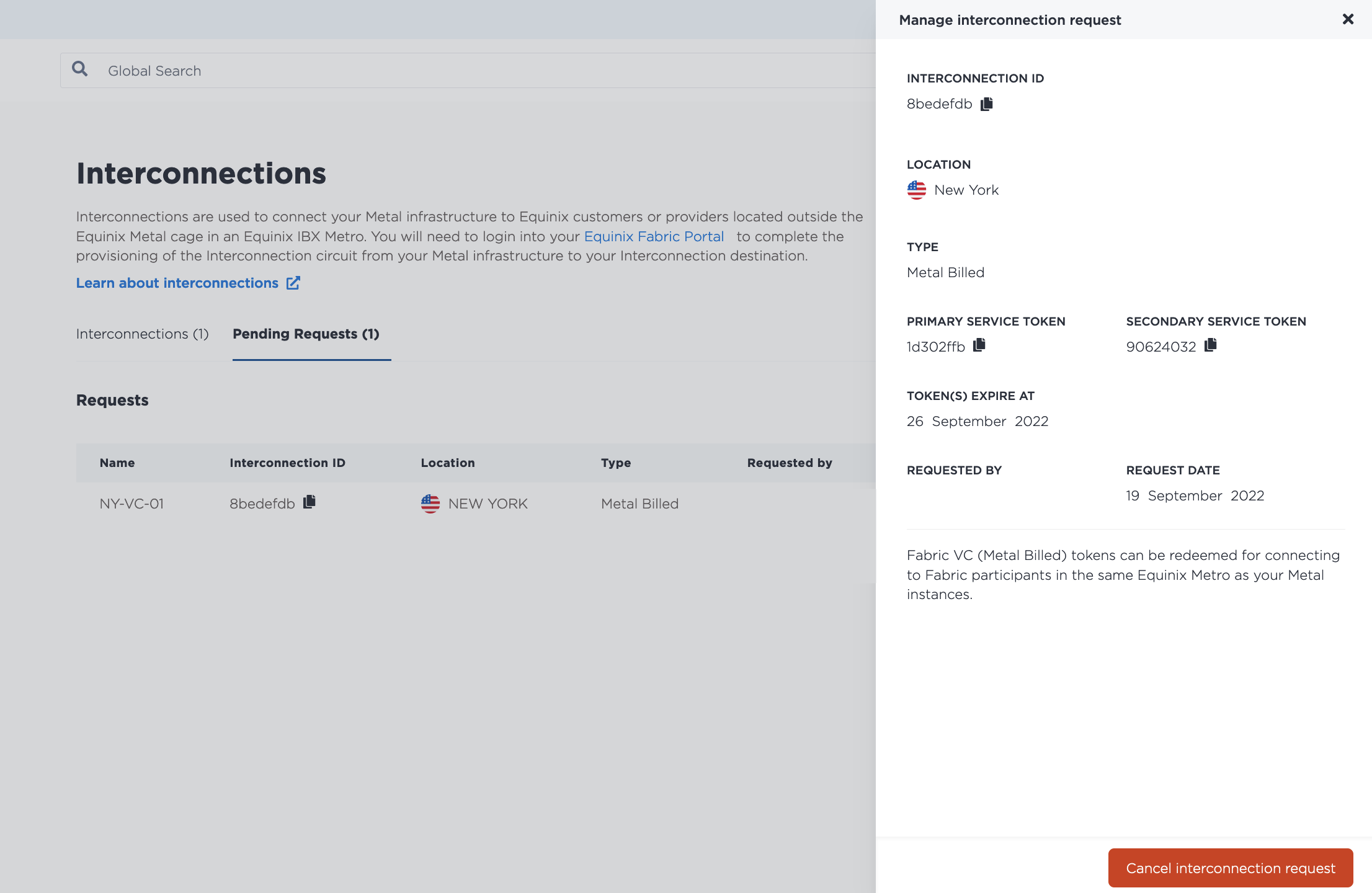 When you have redeemed your service token on Fabric and activation is complete, the hourly billing will begin.
Managing Fabric Virtual Connections¶
Virtual Circuits¶
Each of your ports, primary and secondary, has a single virtual circuit that a VLAN can be attached to.
The relationship of virtual circuits to VLANs is 1:1. You can only attach one VLAN to one virtual circuit, and one virtual circuit to one VLAN. The same VLAN can't be connected to two or more virtual circuits. As a consequence, if you are designing for high-availability with Primary and Secondary ports, you will need a VLAN for each, and will need to have inter-vlan routing or some other layer-3 application awareness.
If you specified the VLANs you wanted connected to your ports' Virtual Circuits when you requested the virtual connection, they will be automatically added. If you did not specify any VLANs, your Virtual Circuits will have Waiting on customer VLAN as the status.
Attaching VLANs¶
Detaching VLANs¶
If you need to detach a VLAN from a port, select the Virtual Circuit, and click Unassociate VLAN from the Actions menu.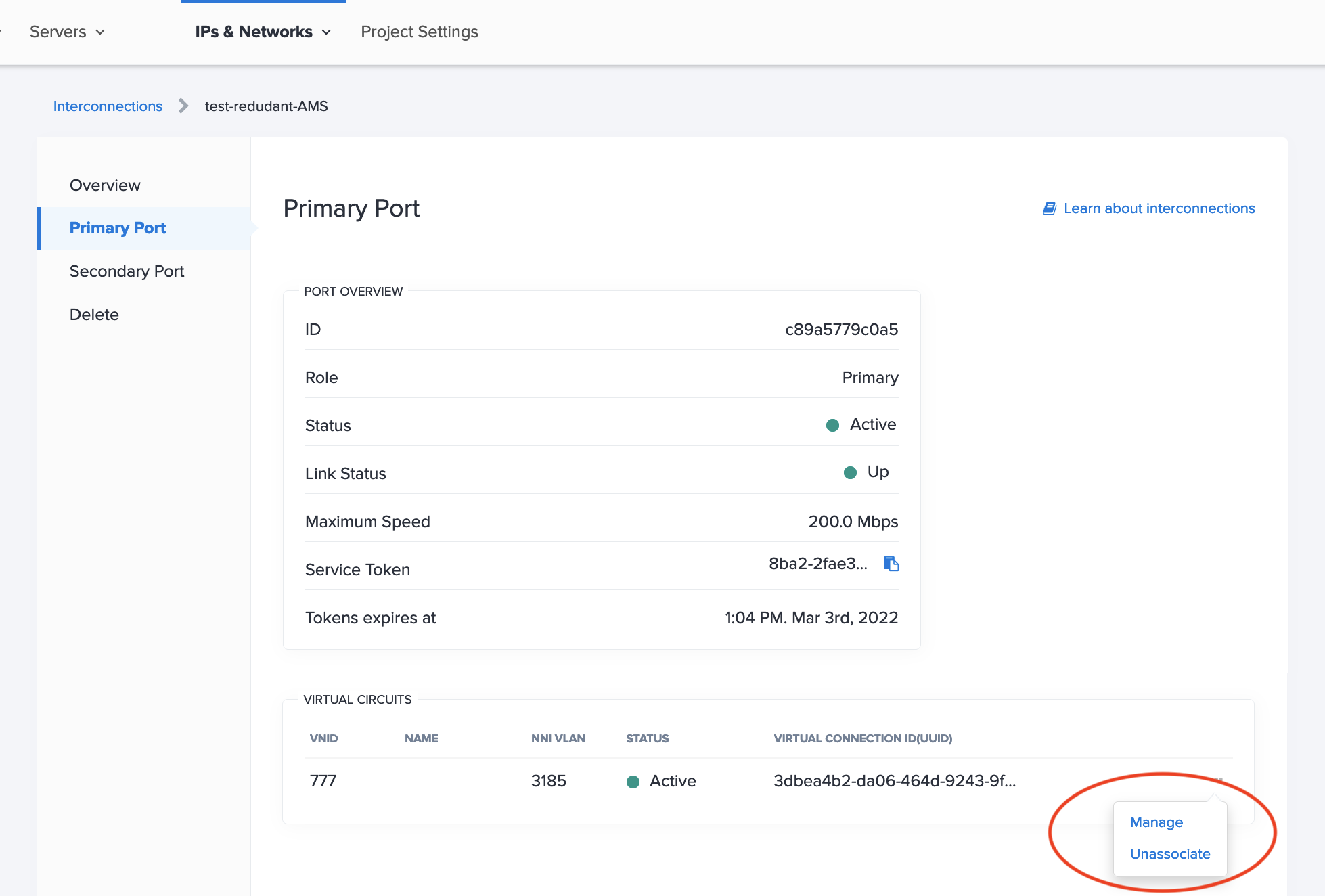 Removing VLANs will not stop the usage charges and billing. To stop usages and billing, you would have to delete the Fabric Virtual Connection.
Deleting a Fabric Virtual Connection¶
Deleting a Fabric Virtual Connection is permanent. When you delete the connection, all attached VLANs will be detached, and traffic from Fabric to your servers will be cut off.
Please be sure to stop traffic before deletion, and ensure you clean up any resources associated to the connection from the destination CSP. Doing this before deleting the connection from the Metal or Fabric portal ensures the connection will be fully deleted and billing charges are stopped.
Note: if you delete a Metal Billed Virtual Connection from the Equinix Metal side, it will be automatically deleted in the Fabric portal also. If you delete it from the Fabric portal, it will also be automatically cleaned up on Equinix Metal side.