Fabric Billed Fabric Virtual Connections¶
Fabric Billed Fabric Virtual Connections are used to make a connection from your Fabric ports or Network Edge devices to Equinix Metal, either within the same metro or across metros. Use-cases include using a Network Edge device as a router for your Equinix Metal services or connecting Equinix Metal to cloud service provider across Metros. All usage, Network Edge, and virtual device charges will appear on your Equinix Fabric account.
Note: this feature replaces Shared Ports for previous users of Equinix Fabric and Network Edge devices with their Equinix Metal infrastructure. Existing Shared Port Interconnections will continue to work, and will be indicated in the portal and API as Legacy.
General Facts
Each Fabric Virtual Connection can be either a single port or a set of redundant ports. Redundant ports are recommended for some amount of high-availability. With a single port, there is no guaranteed uptime.
Each Fabric Virtual Connection comes with a single Virtual Circuit for you to attach to a VLAN to. If you are using redundant ports, each port will have a virtual circuit. In order to have high-availability, you will need inter-vlan routing or some other layer-3 application awareness.
Fabric Virtual Connections have a maximum bandwidth of 10 Gbps.
Fabric Virtual Connection support up to a 9000 byte maximum transmission unit (MTU) and jumbo Ethernet frames.
Origins and Destinations
| Origin | Destination | Supported |
| --- | --- | --- |
| Any physical port on Fabric (not on a Service Profile) | Fabric Billed Fabric VC | Yes |
| Single Virtual Device (not on a Service Profile) | Fabric Billed Fabric VC | Yes |
| Clustered Virtual Device (Network Edge HA Pair) | Fabric Billed Fabric VC | No |
| Metal Billed Fabric VC | Fabric Billed Fabric VC | No |
Requesting a Fabric Billed Fabric Virtual Connection¶
Redeeming the Z-side Service Token¶
To redeem your token, login to the Equinix Fabric portal and from the Connections drop-down menu, click Create a Connection.

Under Frequent Connections, select the Connect using a Service Token tile, and click Enter a Service Token.
In the dialog box, paste your token in the Enter Service Token field, and click Validate.
Verify that the details of the token are correct, and click Redeem to redeem your token and finish setting up yor connection to Fabric.
Legacy Connections - If you have previously used Shared Ports on Equinix Metal, then you may have used the Fabric Token field to redeem your token and set up your connection. If you have existing legacy connections, they will continue to work as expected. If you have unredeemed legacy tokens, it is no longer possible to redeem those tokens on Equinix Fabric. You will need to request new service tokens, and use the new steps to redeem them in Fabric.
Configuring the Origin¶
You can now continue setting up your connection in the Fabric portal. Since you redeemed a pre-configured service token, Equinix Metal will automatically be set as the destination for the connection and you will be choosing the origin.
First, select the location of the origin of the connection. This is most often a Virtual Device, but could also be one of your own Equinix Fabric ports. The virtual device or port can be in any metro.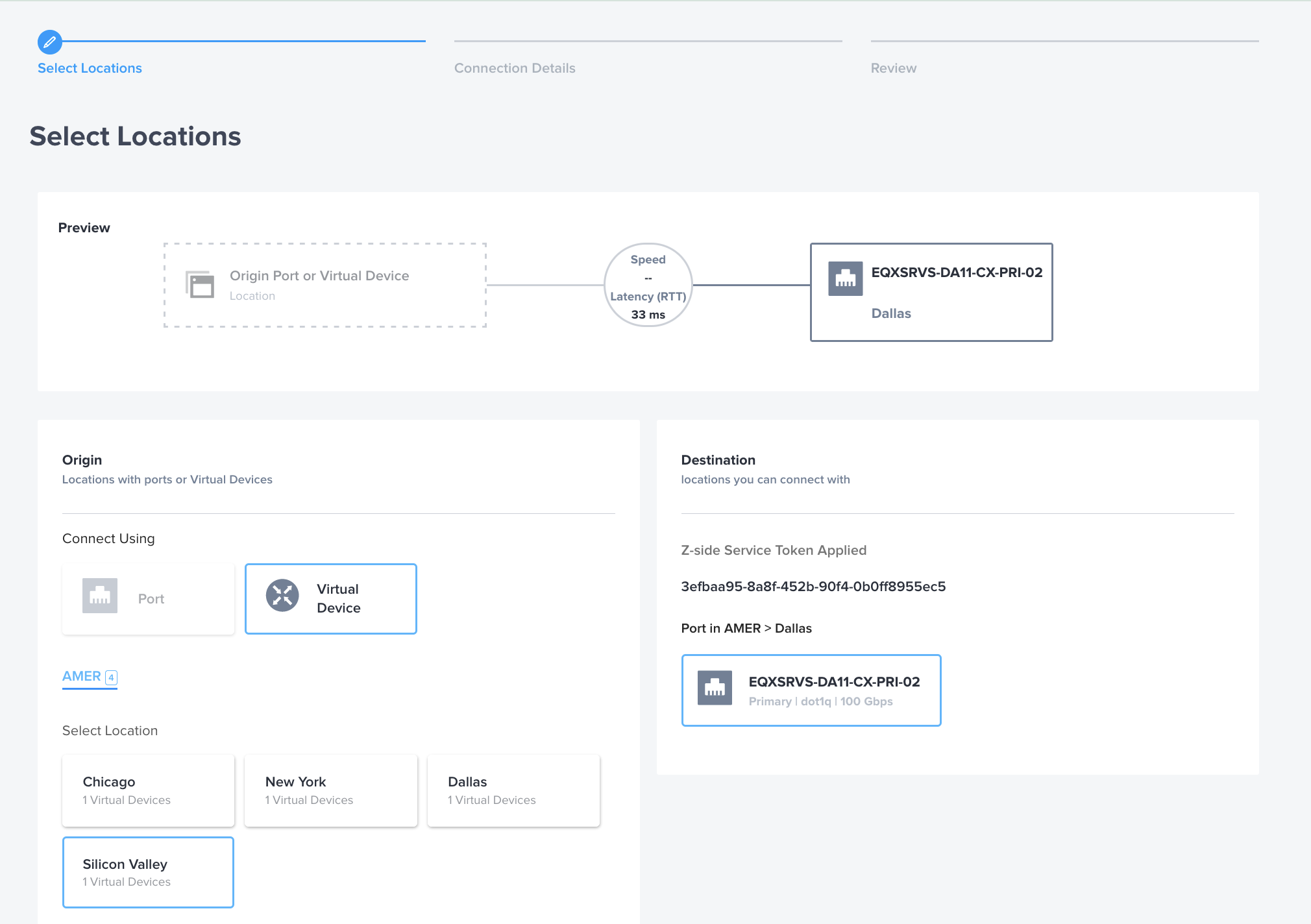 If you are using a Virtual Device, select the device type and the connection type. Currently, Redundant Devices and Clusters are not supported.
On the Connection Details page, give your virtual connection a friendly name, specify which interfaces on the virtual device to connect with (if necessary), and specify a Purchase Order number if your organization requires it for billing purposes. The z-side VLAN is auto-assigned by the service token, and does not have to match your VLAN IDs on Equinix Metal.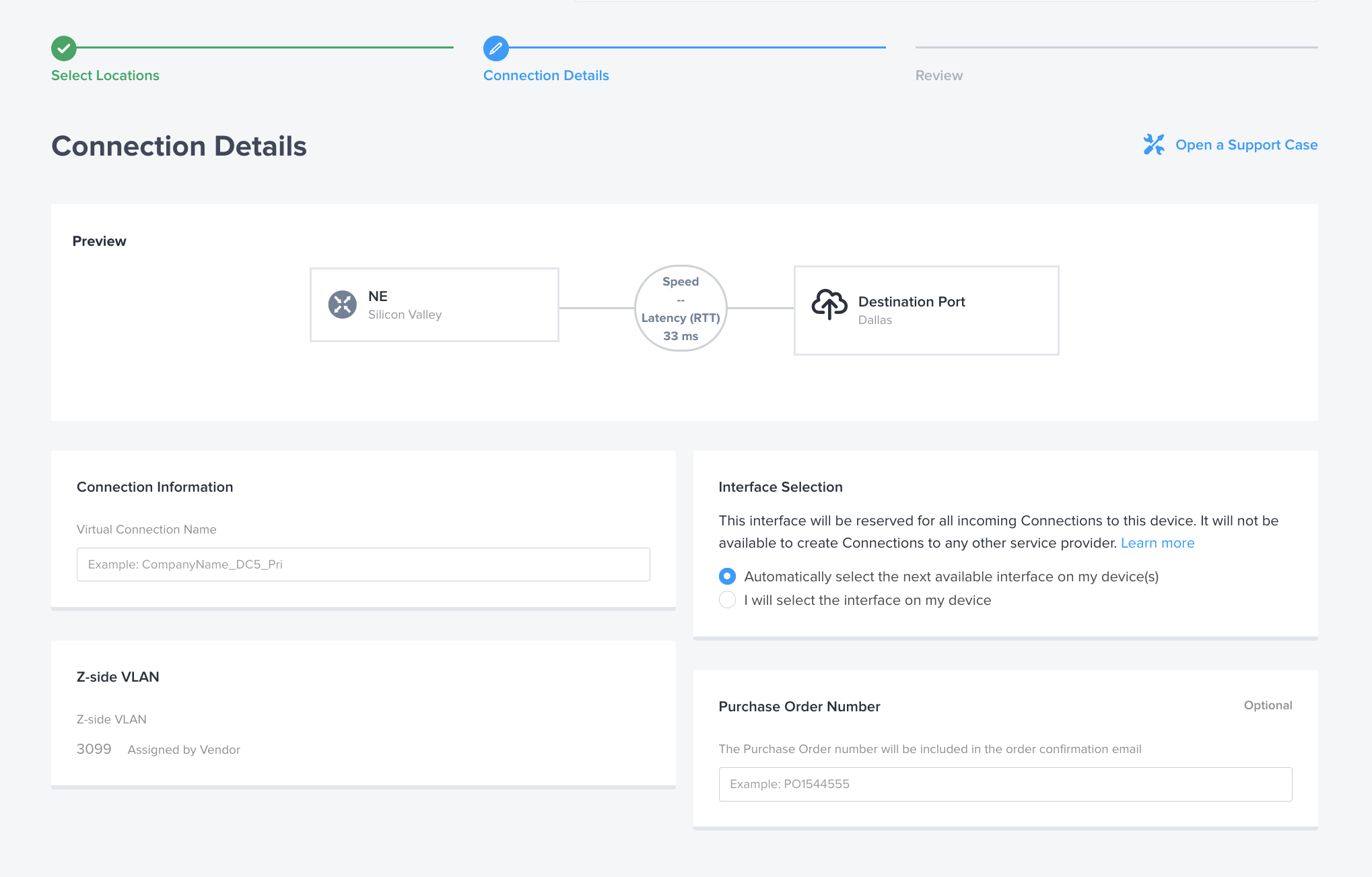 Next, set the speed of the connection. Equinix Metal sets the maximum speed for Fabric Virtual Connections - Fabric Billed at 10 Gbps. Choose from the Fabric speed options and pricing.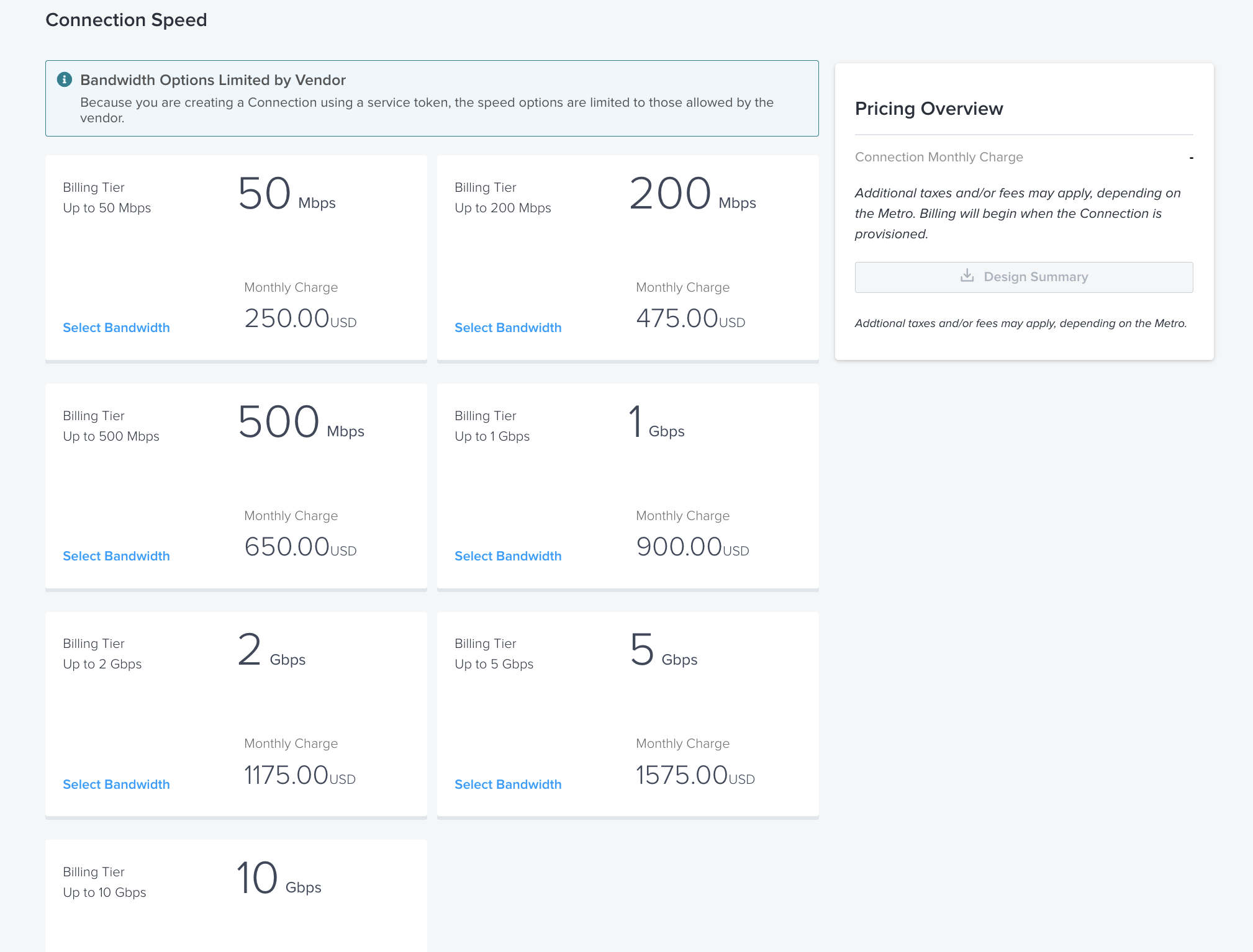 The last page is a review, where you can review your choices and go back and make changes. When you are ready to place the order, click Submit Order. This initiates a connection setup process between Fabric and Equinix Metal in the background that can take up to 10 minutes to complete.
If you received two tokens for a redundant connection, be sure to repeat the process to redeem your second token.
If you need to retrieve the tokens, they are available in the Interconnection Request tab. Click Manage on the Interconnection that you want the tokens for.
Managing Fabric Virtual Connections¶
Virtual Circuits¶
Each of your ports, primary and secondary, has a single virtual circuit that a VLAN can be attached to.
The relationship of virtual circuits to VLANs is 1:1. You can only attach one VLAN to one virtual circuit, and one virtual circuit to one VLAN. The same VLAN can't be connected to two or more virtual circuits. As a consequence, if you are designing for high-availability with Primary and Secondary ports, you will need a VLAN for each, and will need to have inter-vlan routing or some other layer-3 application awareness.
If you specified the VLANs you wanted connected to your ports' Virtual Circuits when you requested the virtual connection, they will be automatically added. If you did not specify any VLANs, your Virtual Circuits will have Waiting on customer VLAN as the status.
Attaching VLANs¶
Detaching VLANs¶
If you need to detach a VLAN from a port, select the Virtual Circuit, and click Unassociate VLAN from the Actions menu.
Deleting a Fabric Virtual Connection¶
Deleting a Fabric Virtual Connection is permanent. When you delete the connection, all attached VLANs will be detached, and traffic from Fabric to your servers will be cut off. Please be sure to stop traffic before deletion.
Note: if you delete a Fabric Billed Virtual Connection from the Equinix Metal side, it will be automatically deleted in the Fabric portal also. If you delete it from the Fabric portal, it will also be automatically cleaned up on Equinix Metal side.