Payment Methods¶
When you create an Equinix Metal™ organization, you are required to enter a payment method of either a credit card or PayPal account, and a billing address.
If you are using a credit card, we also ask for: the name on the card, the credit card number, the expiration month and year, the CVV code, and the country and zip code.
If you are using PayPal, you will be directed to log in to your PayPal account and authorize Equinix Metal to charge your PayPal account.
Once your account and organization is established, you can update and change your payment method at any time. You must have a primary payment method associated with your organization as long as there is at least one project in that organization.
In your Organization, all payment methods for the organization are listed on the Payment Methods tab. Billing information is available to an organizations' Owner, Admins, and those with the Billing role.
Adding a Payment Method¶
To add a new credit card, click +, select Credit Card, and fill in the new credit card details into the fields in the slide-out menu. All fields are required.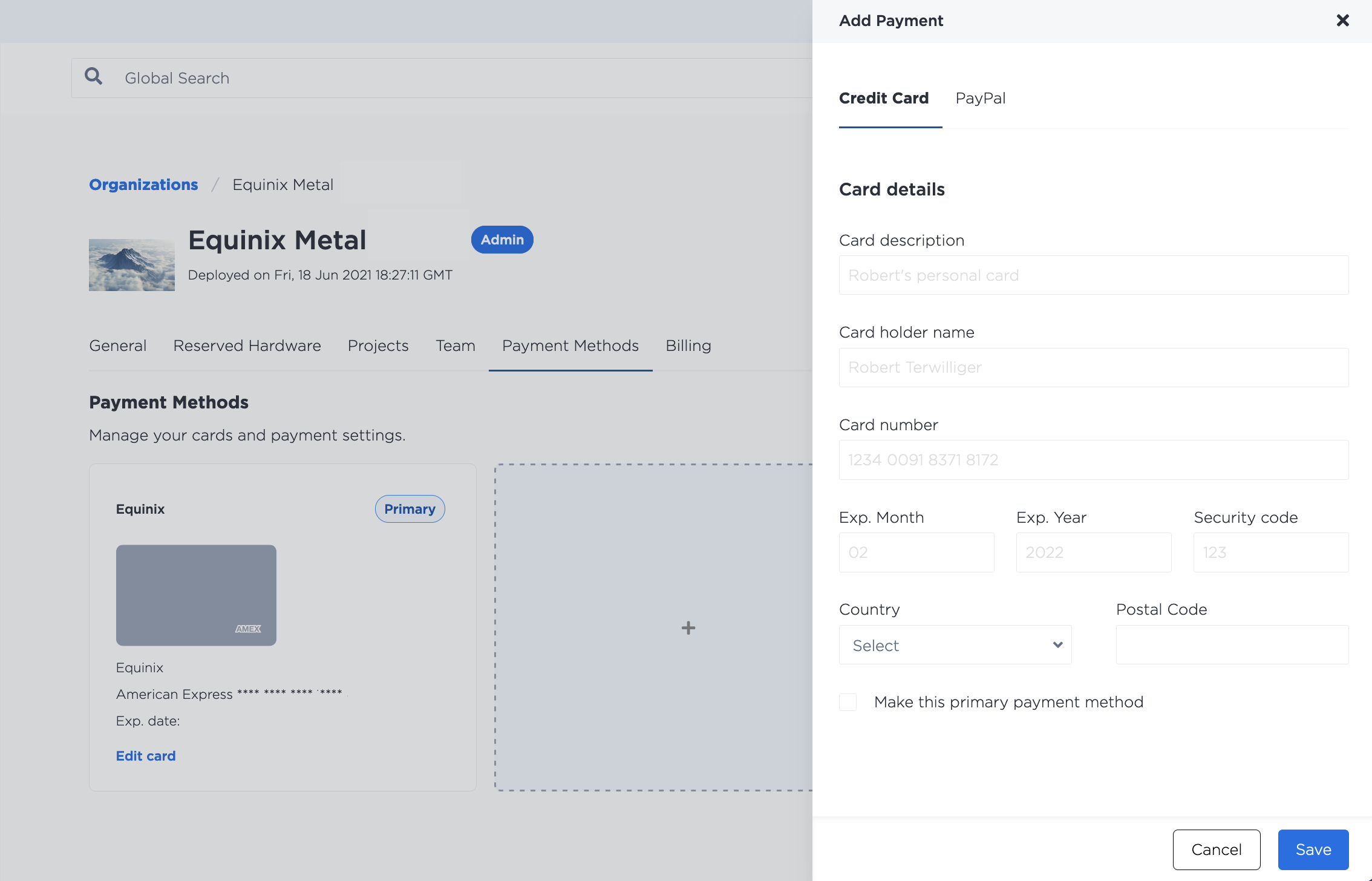 To add a PayPal account, click +, and select PayPal. PayPal will prompt you log in to your account, select a PayPal payment method, and authorize Equinix Metal to charge your PayPal account.
Updating Payment Methods¶
You can change a payment method on your account to be the primary payment method by clicking Set as Primary. You can update the details of a payment method by clicking Edit.
If you need to remove a payment method, click Edit and then Delete. You can not remove a payment method that is currently set as the primary payment method.
Redeeming Credits¶
If you have received a code for a credit towards your next invoice, you can enter it on the Billing tab. The credit will be applied to the next month's invoice.
Other Payment Options¶
If you are part of an enterprise or organization that would like to be billed on terms instead of using a credit card or PayPal for automated charges, reach out to your account manager, or the customer success team at support@equinixmetal.com.
Equinix Metal then makes the account information for you to pay your invoices available on the Payment Methods page.